Download V3 Here (Released 10/09/23)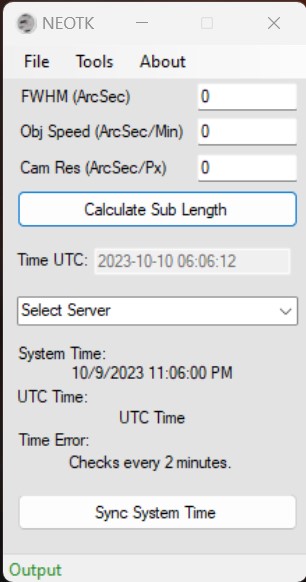 MS Defender may detect this as a Wacatac.B!ml virus. That is because it is stupid. There are no viruses in this simple app.
(Find Sub Exposure Time) 
Enter Typical FWHM (Can get from Astrometrica). 
Enter object speed. 
Enter camera resolution in arc seconds / pixel. 
(Sync Time with UTC NTP Server) 
Select a server and wait 2 minutes or manually update. Program requires admin permissions to run. 
(Quickly Move Objects Genearted in FindOrb to Stellarium) 
Select Tools: FindOrb2Stellarium and choose elements file generated in FindOrb.
(Quick Conversions) Select Tools: Quick Convert. (Preloaded examples work) -Convert HMS to Decimal Degrees. Accepts a number of different configurations. Valid: 05 28 55 +52 26 46 Valid: 05:28:55.321-52:26:46.1 Valid: 05,28,55.32 -52:26:46.1 -Convert back from Decimal Degrees to HMS -Convert calendar (CE) dates to JDT (adopted from Press et al.) -Convert MPC Decimal Days to Day HH:MM:SS.S More conversions to come. 
Note, if you get an error about only one port being used at a time, disable the windows time service.
Windows key + r
services.msc
Find Windows Time, disable.
Special thanks to Valer BOCAN for his awesome C# SNTP script. 
---
I offer all applications I produce free of charge. Please consider a donation :)